ABOUT MEENAKSHI MEDHI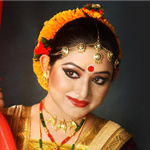 Meenakshi Medhi is a dedicated and committed exponent of Sattriya. She has obtained her Nritya Visharad in Sattriya dance from Sangeet Sattra Pariksha Parishad, Guwahati under the guidance of Adhyapak Late Jibanjit Dutta. After the demise of Adhyapak Jibanjit Dutta , Meenakshi started learning this dance form under Sangeet Natak Akademi Awardee Adhyapak Haricharan Bhuyan Borbayan. She has also been guided by Late. Dr. Jagannath Mahanta on the theoretical aspect of Sattriya dance during her research period in University of Mumbai and received special training by Adhyapak Paramananda Kakoty Borbayan of Purona Kamalabari Sattra, Titabor and Adhyapak Bhaben Borbayan of Uttar Kamalabari Sattra, Majuli. Apart from Sattriya, she has also completed her visharad in Bharatnatyam.
Meenakshi, born into the family of Tarun Chandra Medhi and Pramodini Medhi of Guwahati, has been relentlessly pursuing her love for the dance form and with her natural flair combined with indefatigable dedication she has developed into her present status of an elite performing artist. Meenakshi is keeping her devotion to sattriya unaltered in Delhi presently, where she has moved after her marriage to Deepankar Baruah.
Meenakshi has completed dual master degrees in Philosophy and Sociology from University of Mumbai and IGNOU respectively .She is a graduate from the prestigious Cotton College, Guwahati.
AWARDS RECEIVED:
• Awarded National Young Scholarship by Ministry Of Culture, Govt. Of India, New Delhi.
• Awarded Grade 'B' in Sattriya Dance by Prasar Bharati (India's Public Service Broadcaster) Doordarshan Kendra, Guwahati.
EMPANELLED UNDER:
• Ministry of Culture, Festival of India Cell panel of artists/groups for participation in Festivals of India Abroad in the promising artist category.
• SPICMACAY for Workshop Demonstrations on Sattriya Dance.
APPRECIATION BY CULTURAL ORGANIZATIONS:
• Guru Samman at Nritya Fest 2022 by Nrityalaya, a centre for classical dances, New Delhi.
• National Nritya Bhusan award by Utkal Yuva Sanskrutik Sangh, Cuttack, India.
• Kalai Kalanjiyam Award ('Repository of Talent in the field of Fine Arts') by Kalai Koodam Academy of Performing Arts Trust, Madurai .
HIGHLIGHTS:
• Dual master degree holder in Philosophy and Sociology from University of Mumbai and IGNOU.
• Graduation and higher secondary from Cotton College, Guwahati.
• High school from Nichols High School, Guwahati.
• Learning and practicing dance since the age of 5 years (Started learning Sattriya since 2004).
• She established her brainchild "SATKARA- Unleashing the Spirit of Sattriya" in 2013.
• Presently, she is teaching Sattriya dance in New Delhi.